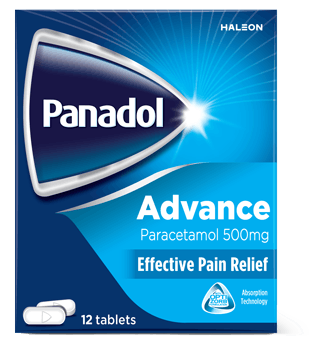 Panadol
Tough on pain, gentle on you
Panadol is available in over 80 countries around the world: it offers fast and effective relief from pain and also reduces fever, leaving you free to enjoy life to the full again.
What does it do?
Whether you are young or old, have head pain or body pain, Panadol provides an effective pain relief solution.
How does it work?
Paracetamol, the active ingredient in Panadol, is used to help ease mild to moderate pain, including headache, migraine headache, muscle aches, period pain, toothache, and aches and pains caused by the common cold or flu. Paracetamol-based pain relievers, like those in the Panadol range, can also help to reduce temperatures.*
The science behind Panadol
Prostaglandins are the chemicals which signal pain and inflammation in the brain. The paracetamol active ingredient in Panadol works by blocking these prostaglandins. It's also gentle on the stomach and may be a suitable choice in patients for whom non-steroidal anti-inflammatories are not appropriate.
References
*Approved indications may vary depending upon the individual country.