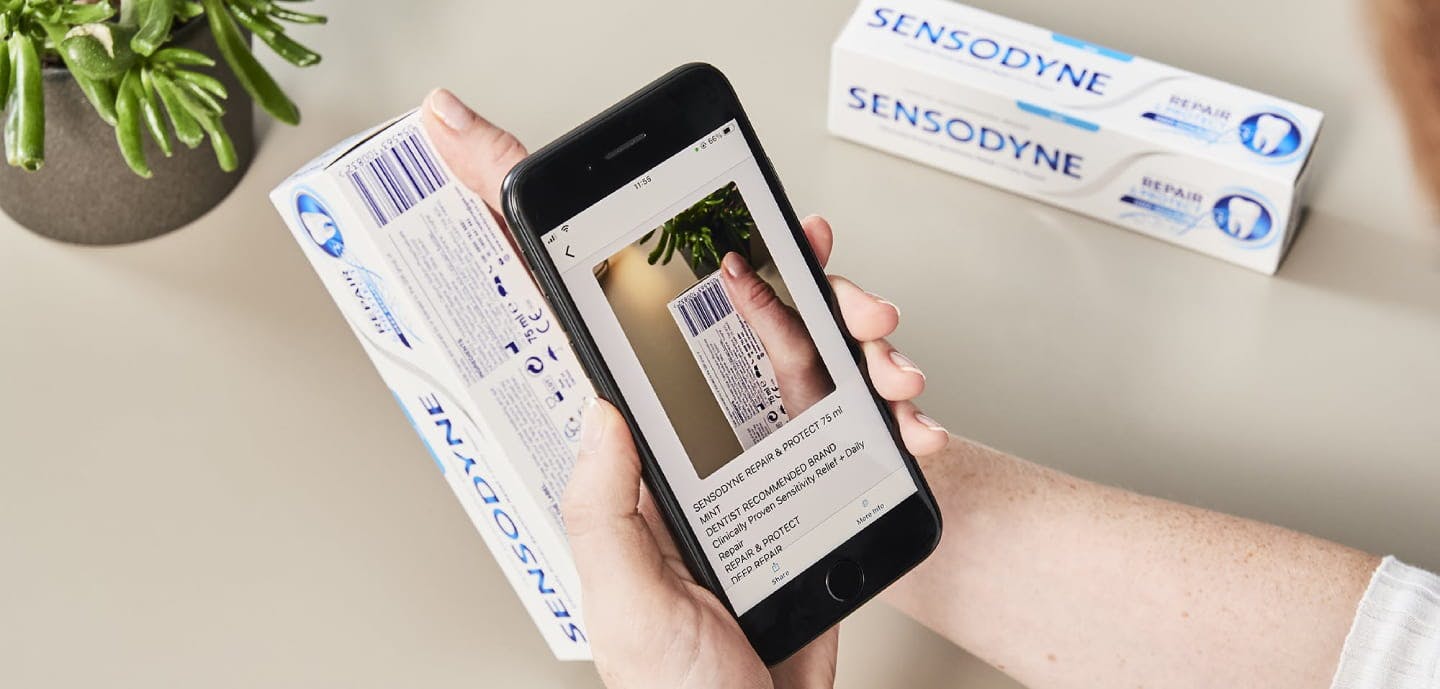 Barcodes that speak, using Seeing AI
Making our product information audible for those living with sight loss.
Our purpose is to deliver better everyday health with humanity and as part of this we want to ensure our products are accessible for everybody. However, millions of people around the world are blind, visually impaired or need help to read. This can create barriers for them to access the product information on our packaging and can lead to mistakes when purchasing or using our products.
To help solve these challenges, we are collaborating with Microsoft to help them expand the functionality of their Seeing AI app, a free app that narrates the world for the visually impaired community.
Our barcodes don't just bleep – they speak
Working with Microsoft, we are expanding the Seeing AI functionality for our product barcodes in the UK and USA. This will help make our brands (including Sensodyne, Centrum and Aquafresh) more accessible for people who can't read our packaging.
To use Seeing AI on Haleon's products, the user should hold their phone camera over the existing barcode on the packaging. The app will read out the product name and all text on the packaging. The user can skip ahead or move back to the relevant section they wish to listen to, for example which flavour or how to use the product.
The Microsoft Seeing AI app is free to download from the Apple App Store and will be available on Android in the future.
The video shows Saqib Shaikh from above, holding his phone in one hand and a Centrum pack in the other. He uses his phone camera to scan the Centrum barcode, while explaning how the Seeing AI app functions.
Always read the label
To support this launch, our new campaign in the UK called 'Always read the label" is designed to help draw attention to the challenges faced by people who are blind, visually impaired or need help reading. The campaign will showcase how the Seeing AI app expanded functionality can help people to access Haleon product labels.
By launching this campaign, we are hoping to inform as many people as possible about the improved Seeing AI functionality and its benefits, including healthcare professionals and the friends and families of those who are blind, are visually impaired or need help reading.
The video shows a person with a visual impairment having difficulty locating the correct item in a bathroom. There are 5 puppets that represent Haleon products - Sensodyne, Voltarol, Centrum, Panadol and Otrivine – who are shocked that everyone cannot read labels until Sensodyne presents a solution; the Microsoft Seeing AI app. The puppets rejoice at the solution.
The expanded Haleon functionality on Microsoft Seeing AI is currently available for the following brands:
UK: Alli, Anadin, Andrews, Aquafresh, Beechams, Biotene, Breathe Right, Calvive, Centrum, Chapstick, Corsodyl, Driclor, Emergen-C, Eno, Euomvate, Eurax, Imedeen, Lamisil, Macleans, Nexium Control, Nicotinell, Day Nurse, Night Nurse, Otrivine, Panadol, Pirinase, Piriteze, Piriton, Poligrip, Preparation H, Pronamel, Robitussin, Sensodyne, Voltarol, Zovirax.
US: Benefiber, Biotene, Caltrate, Centrum, Chapstick, Emergen-C, Polident, Poligrip.
Last updated 03 November 2022