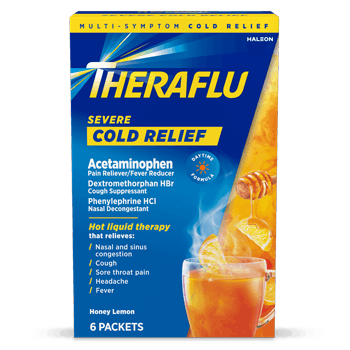 Theraflu
Fast and effective relief
Theraflu products are available for treatment of a range of symptoms associated with cold and flu including pain, fever, headache, runny nose, nasal congestion, wet cough or dry cough.
How does it work?
Theraflu combines speed and effectiveness, restoring everyday performance with a combination of active ingredients to relieve bothersome cold and flu symptoms.
The science behind Theraflu
Cold and flu viruses produce chemicals – prostaglandins – which signal pain to the brain. Paracetamol reduces pain and congestion by blocking these chemicals, helping to alleviate the symptoms of cold and flu. The hot powdered drink format of Theraflu helps the body to absorb paracetamol quickly so that it can get to work faster.
References
*Valid for products with 650mg and 500mg APAP