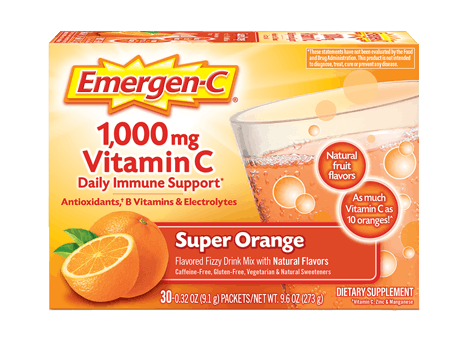 What does it do?
Transform your day with Emergen-C products! With a variety of flavors, special formulas and forms, like fizzy drink mixes and yummy gummy vitamins, it is easy to support your wellness goals. From feeling your best each day to getting vitamins and minerals for immune support*. From helping your little ones feel the good, to getting the help you need to fall asleep‡*, there is an Emergen-C that will allow you to burst forth and Emerge Fortified.
How does it work?
Vitamin C, B Vitamins, electrolytes...what are the ingredients in Emergen-C and how do they help you be your best self? Emergen-C products contain a combination of selected minerals and vitamins for immune system support along with other nutrients* so you can keep feeling the good.
References
* These statements have not been evaluated by the Food and Drug Administration. These products are not intended to diagnose, treat, cure or prevent any disease.
‡ Emergen-Zzzz® is a dietary supplement for occasional sleeplessness