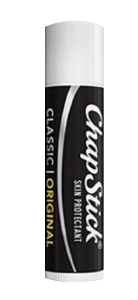 ChapStick
ChapStick products protect, moisturize, prevent and soothe chapped lips.
What does it do?
Lips have the thinnest layer of skin on your body and are easily prone to sun damage. ChapStick comes in a variety of flavors, formulas and tints for both health and beauty.
How does it work?
ChapStick products offer a variety of benefits; for example, our Classic Original, Strawberry, Cherry, and Spearmint moisturize and soften for smooth lips every day. Our 100% Natural Lip Butters are a specially formulated blend of five natural butters, Vitamin E, jojoba, and sunflower extracts to keep lips moisturized and protected and our Total Hydration Moisture+Tint enhances natural lip color with just a hint of color, while Total Hydration Moisture+Tint+SPF has natural sunscreen and moisturizing color to keep your lips protected, nourished and healthier looking. All of our ChapStick products are paraben and phthalate free.